While the kids were sick last week, we didn't get much accomplished. But there was one day - that I had an inspiration.
The kids had been asking to play with their legos and their wooden train set. "Where" was my number one question. My mom had always been telling me that we should just make a room out of the garage - especially since we weren't parking in the garage.
Last week -I tackled it. We had a relatively good day, as far as every one being happy, so I started moving things around. Pretty soon I had an empty place and let them play in the flat hard surface. They put together a giant train track. And got covered in gray, garage dust. So I had to put something down. The professor, all the way in California, suggested astro turf. To Lowe's I went. Astroturf, at Lowe's, has the same backing as indoor/outdoor carpet and the professor didn't want carpeting - for concern with mold/mildew.
Lowe's had a nice subsitute. Foam flooring. Waterproof and washable. This first picture - was taken with my cell phone. It doesn't show the play place in it's "glamour" but they had a blast.
Then I discovered that I could move the christmas ornaments out to the shed where The Professor has been storing his office stuff.
So then we had a bit more room.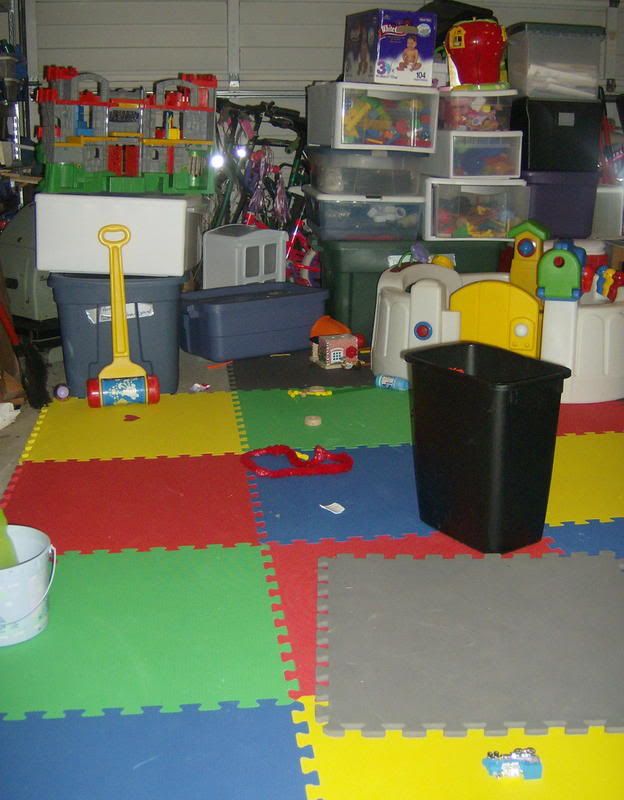 It still looks like a garage - but now we can play legos and set up train tracks.
I'm going to get rid of some child-sized chairs and we're going to hang up the adult bikes to get them out of the way -- and pretty soon, we'll have it just the way we want it.
I need to get a bigger fan to blow air on the hotter days, and playing out there won't be a good thing on hot days in late summer - but right now - it's the best place to play (as it's been rainy). We can even lock out the little kids so the big kids can build Tall lego towers. They even got the tinker toys back out. They've had picnics out there.. and Mini-E likes to go out and just dance in circles.
It's nice to get the garage tackled...it's something I've been putting off.
Oh - that black trash basket - holds rescue heroes.
Here's another view to show that it still looks like a garage. The kids don't mind, though.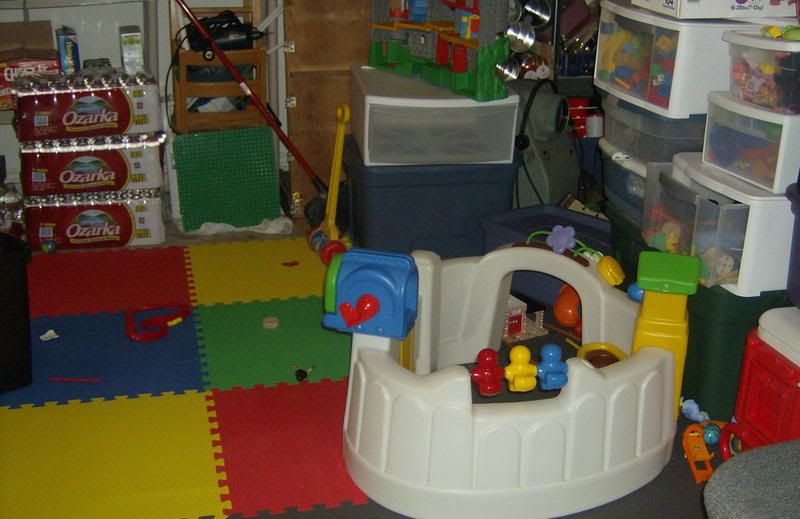 To see what others are tackling - click on over to 5minutesformom.