I forgot, in the hustle and bustle of life that is the Laundry Pile that I was to paint faces TOMORROW for a church outreach. Luckily I won't be the only one...and really I"m only blogging about this because I'm terribly proud of my kids!!
I said, will you guys let me practice on you?

They said "SURE!!"
Mini-Me even said "Me first!!"
That's trust, let me tell ya.

I've wanted to figure out how to sponge on paint - to give back ground colors to a design - without having to paint it on. Here are my two attempts. Mini-Me is seeing stars...and G, below,
Well, I wanted something that looked boyish.
While I was painting on Mini-Me, Mini-E got up from napping and wanted to have some fun, too. I painted on her foot (above). It looks so cute...she had to stand on a tip toe to see what it looked like.
Then J-man got up from his nap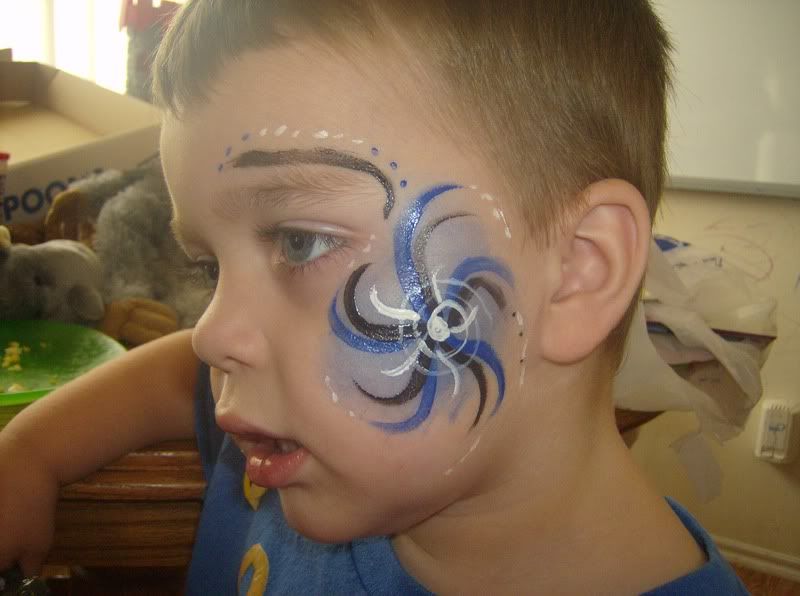 I wanted to erase this and start over - maybe a lightening bolt, instead?? But He wanted to het his face painted. And sat so very still.
Today we had to go to Wal-mart - I needed a certain sponge. We didn't find sponges at wal-mart so we headed for Hobby Lobby. J-man Said "Hobby Lobby"!!!! Where we found sponges AND GLORY!! Paintbrushes on sale for HALF-OFF!!
I had just mentioned to The Professor that my crafty paint brushes were pretty much junk now and needed to be replaced!! HALF-OFF!!! I bought three packs of different brushes with acrylic handles!! LOVE THEM!! I'm so giddy about it - I almost want to paint something other than children!