Today we "celebrated" our anniversary - celebrate inasmuch as we went out.
Without children.
We went to our favorite museum and discovered that they've again changed the current exhibits and we really didn't see much we liked. They had a special exhibit on
Antoine-Louis Barye
which was, to say the least, interesting. We overheard one mom tell a dad that "this man needs serious therapy. How many ways can one envision an animal killing another?"
Which made me laugh. Because my thoughts run along the same thing.

The nifty thing about Barye's work was that he really never saw it in action. He never saw one animal kill another. He studied most of his subjects in a Paris zoo. But his attention to detail was amazing. On one sculpture of a lion, we could see the detail of the rib cage...
When we were done looking at the special exhibit, we wandered out to the gardens.
Shall we say it was hot - but the gardens were beautiful.
Here we are at the "bottom" of the gardens.
Sitting here, looking out, this is what we saw: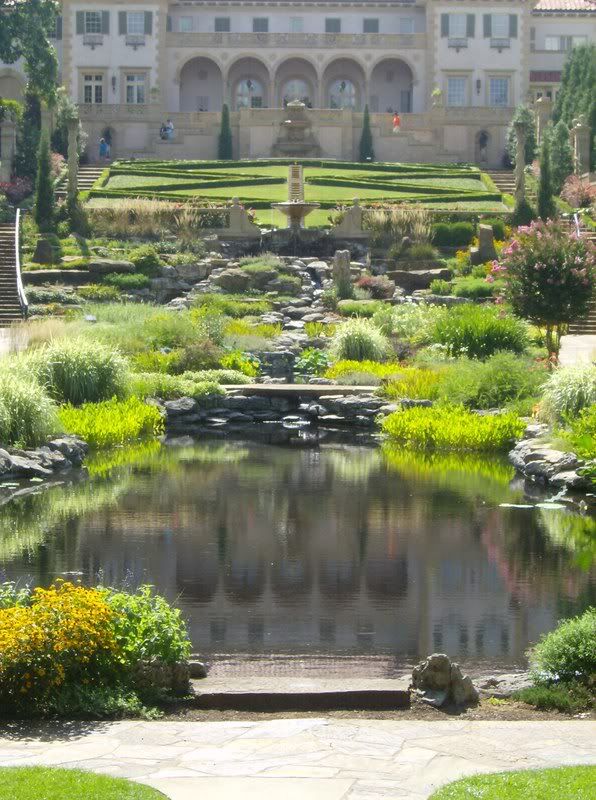 It really is quite pretty.

I was playing with my camera, and took this picture:
I thought about it - and decided it's really rather symbolic.
We've been walking together for 10 years.
He's always worn black sneakers, by the way. How fantastic to take a picture of our feet as we embark on the next leg of our journey.
Then we went to dinner and to the bookstore.
I got a new copy of Ivanhoe, though, I'm really wishing I'd found a copy for younger readers, so that I could read it to the kids. Our wonderful friend & babysitter said, "You guys always end up at the bookstore."
I guess we're creatures habit. It was a nice anniversary outing. I'm so glad we went.
We got home and were greeted by great big hugs from the kids all in their pajamas. It was nice to be home. 10 years. I'm still getting used to saying that.