When Shaggy went to be with Jesus (that's our hope as we don't really KNOW where Doggies go when they die.) our vet suggested we adopt Sprout. He's 9 months old. Completely healthy. Had all his shots. He's been neutered. He would do really well with kids. He loves to play chase.
The kids were all for this idea. They really wanted another dog.
I really wanted time to wait. and ponder and think.
But we picked him up on a Friday.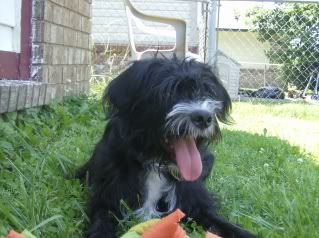 This is Sprout.
He's cute, isn't he?
Rather unassuming, too.
He looks a bit like a rascal with that hair.
He's not very tall. When he's on all 4 feet.
When he jumps .... he's very tall.
And when he jumps - he bites.
And when he bites, he's scary.
9 months old - and NEVER been around kids.
He's a biter.
In just a few hours of having him in our home, I heard two very telling comments.
J-man said, "I don't like him. I wish Shaggy hadn't died."
Mini-E, who is now known as Bubbles, hollered as she ran for the door, "Doggy gonna EAT ME!!!"
Sigh.
The professor was willing, on Friday, to see how the weekend went. To see if Sprout calmed down at all.
He jumped. He bit.
He bruised.
He even bit me - and I realize it was just playing and herding -- but he was biting ANYTHING available. Arms, legs, bottoms.
Mini-Me pointed her finger at him and told him "NO!" and he bit her finger.
By the evening came, and all the kids were scared of him.
The professor said, "He goes back in the morning."
In the morning, Mini-Me took him outside to run and play, hoping to win over our affections for the dog. Soon someone comes in and says, "MINI-ME NEEDS HELP!"
So I saunter over and find her crying and frozen in place with the dog bouncing around her. He did not want to just play ball -- he bit her on her arms and legs so hard that he left bruises all over her. The next day, she looked like an abuse victim.
If we had lived in the woods, Sprout would have been sprouting up daisies.
The Prof was one mad man.
Sprout went back to the vet as soon as they opened the next day.
I started the search for dog breeds.
We now knew we did NOT want a terrier.
EVER.
Because of him, I also cut out herding dogs as a potential pup for us, too.
We needed a rather non-shedding dog as the professor is allergic to fur. -- anything growing really. So -- the search began.
Stay tuned for the our next exciting *snort* adventure
I use the term "adventure" VERY lightly.