Anyone know what this is?

I don't, but it nearly took over my flower bed.
Two Sundays ago, Mini-Me wanted to ride her bike and/or
Rollerblades
. I don't like to let the kids out in the front by themselves, especially to ride in the street, so I decided it was perfect time to weed the flower bed. It's on the side of the house and easily ignored. I thought the neighbors might appreciate the sprucing.
Besides, whatever that plant is, was really taking over the flower bed. Nearly smothering out the marigolds that we had planted.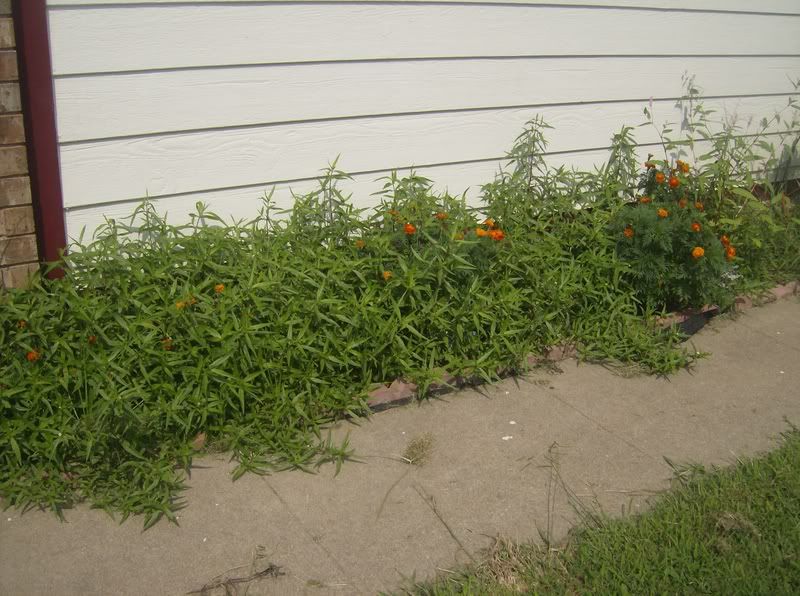 I don't remember planting anything that said "Ground Cover" or "Borg-like tendencies" (you know, to take over and conquer. 'you will be assimilated'.) It was really funny. It had so many little sucker roots on it that I'm not sure I got it all. We'll see.
As I sat there and pulled this "weed" from the flower bed, I had this huge joke in my head. I just thought how funny it would be to blog about the flower bed in it's current state. Then talk about the fact that it's been neglected because of the tomatoes. (Only partly true. I told you, we can't see it unless we walk around to it.) So the blog would be a funny post about unfaithful.
Or so I thought.
The Holy Spirit started to show me the spiritual significance of the weeds. How
neglecting
the flower bed for the tomatoes created a messy flower bed and other
unforeseen
entanglements.
Spiritually, I put my fingers in my ears.
I wasn't sure I wanted to hear this. Even if it could preach.
Holy Spirit is a gentlemen, He stopped talking. I"m pretty sure He was standing there smiling at me. I could just tell.
I already knew what He was talking about. I just didn't want to hear it about ME.
I was thinking GENERICALLY. Not personally.
When we neglect one thing - for another - no matter how important that 'other' may be, weeds might grow up. *Sigh* That could preach. *whimper*
It took me a bit before I went back to revisit the conversation.
What if He talked about Blogging?? What would I do then??
I did learned something, though.
God can turn a lesson out of anything, but you've got to be willing to listen.
To pull out the weeds, you've got to get your fingers dirty.
Once the weeds took over, some of the marigolds were choked. I'm not sure they're going to make it, even after the weeds were pulled, and they were set free.
All it all, it was a good experience. I kind of laugh about it now. I know Holy Spirit is, I think He finds me amusing.
Even as amusing as I am, I'm on the look out for weeds. I don't want good plants choked out because of weeds that might sprout up when I'm not looking.