Juggling Paynes over at Homes Spun Juggling has coined a new phrase. "
Carpe Degrium!
" It means:
Carpe Degrium
/Car' pe De gree' um/- seize the educational opportunity!
I thought maybe our seizing of educational opportunities were going to be those weird things that typically happen to us. Like finding dead cicadas as we go into office building on Speech Therapy days. Or picking up pinecones (same location). I thought I had it good with the tomatoes I was growing in the back yard. All the kids tasted and only one appreciated the fine taste of home grown tomatoes. Mini-E is much more like me that I care to admit.
Mini-Me started a bug hunt. She started desiring to catch a butterfly to study it up close. But then the butteflies flew away from our really hot weather. It didn't help that the Professor mowed all the clover in the back yard.
So I was surprised when she took an interest in this fella.
See, Mini-Me typically has an aversion to insects of any kind. I'm sure this guy has an aversion to children, too. If he didn't before - he sure will after this.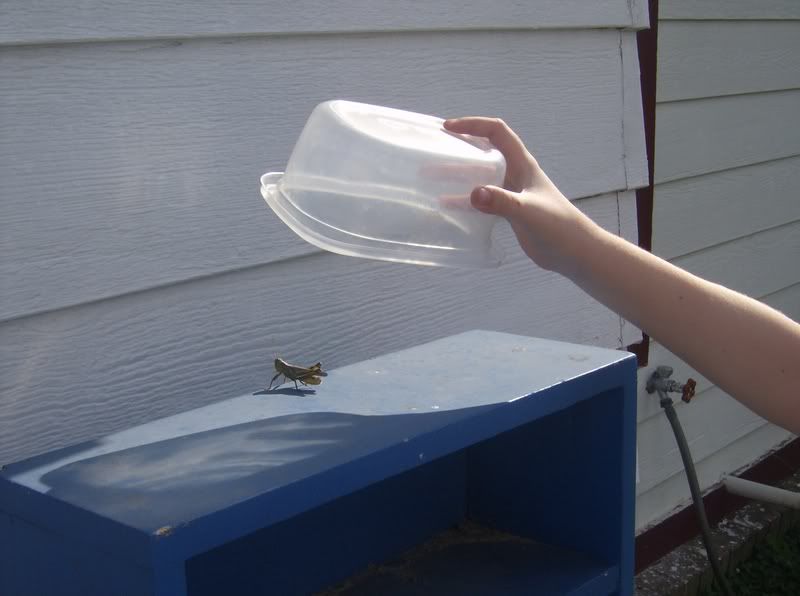 She was careful and cautious and he was basking in the sun. I'm sure he thought he'd just sit and rest awhile. Silly grasshopper. He's lucky the cat stays inside.
Her only problem came when she accident had the lid upside down. That was quickly remedied and the grasshopper was caught.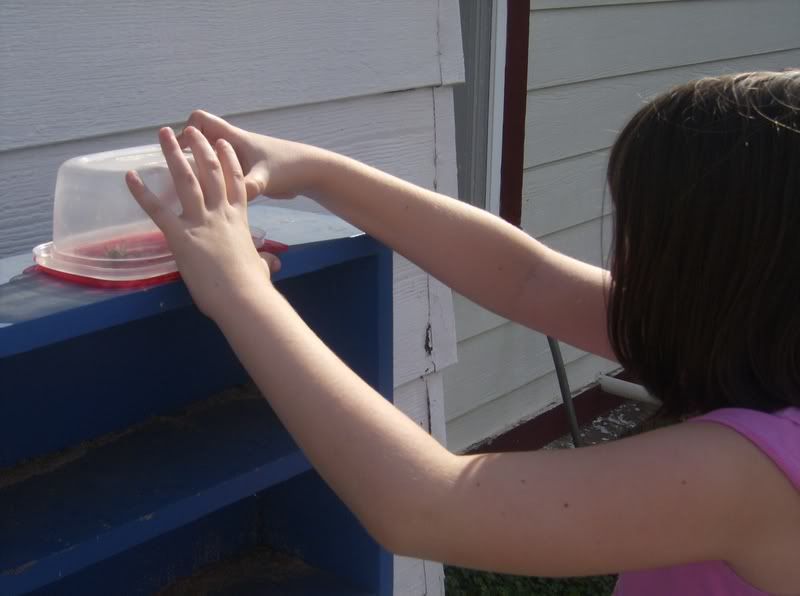 We transferred him to a glass jar to better view our captive. I looked up on the internet and found a diagram of the parts of the body for grasshoppers. And she sat down to draw him and study him closer. I was really proud of her.
Here's the picture she drew: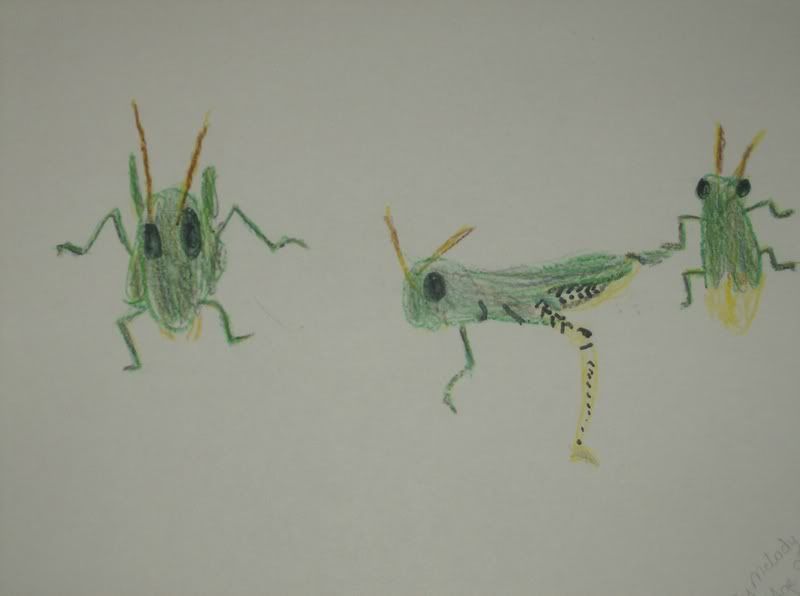 My favorite one was the view on the left. Of course, I've always thought that grasshoppers had funny little faces. She mixed colors - she used creativity and she asked me questions that I had no answers to.
The main one: Is this a boy or a girl?
Um.
yeah.
How 'bout that.
we looked it up and we think it's a girl, but we're really not sure because we let him/her/it go before we could really research closer. I was going to have to pick him/her/it up to find out - because girl grasshoppers have pincer looking things on the end of the abdomen for laying eggs. She was afraid I'd her him/her/it and I could reach in the jar to grab him/her/it with Mini-Me sitting next to me sucking in air everytime he/she/it moved. So I think Mini-Me will call the grasshopper "She" and I'll call him "Lucky."
I drew the line at Mini-me giving the insect a name.
We have enough pets.
Today we cleaned out a flower bed on the side of the house and found a preying mantis. It was cool. She kept at him until she caught him. She took him in and drew pictures of him and then let him go back in the flower bed.
She said, "Mom, will we be studying bugs in homeschool?"
I was proud. She's thrilled about bugs! I told her, "The nice thing about homeschooling is that you can study whatever you want."
She's thrilled. I'm thrilled. This is the first time she's shown an interest in something - I mean, other than a
passing
interest. So I'll get us something to aid her in her study of insects and we'll study them in Science.
This is
Carpe Degrium
.
It's fun.