If fruit flies eat fruit -- what do time flies eat??

it seems like yesterday that Mini-E turned 2. Yesterday she shocked me by asking to sit on the potty. And actually pottied!! I was a bit surprised, even if I have my suspicions that she had come up with an excuse to get me all to herself. Ah, well. It's a start.

The Saturday after Mini-E turned 2, we called on our favorite babysitter and the Professor and I went out on a date. We don't often do this because we don't have a babysitter budget. (Though, I think we need one.)

We left the kids in the capable hands of our beloved Lady-in-Pink and headed out to have a time all to ourselves. Have you noticed that there really aren't any privately owned restaurant anymore?? Everywhere you go, the names are the same. We tried Cheddars. They were at capacity with a waiting line that was out the door. People were standing in the cold rain willing to wait. That said that the food was good - but slow. So we headed across the street..to a Tex-Mex place

There was a wait here, too, but at least we got to wait inside. And we talked. We were able to talk about school purchases for the 2008-2009 season. I realized, with some trepidation, that I will have 3 grades to teach. J-man will, most likely, be in the K4 books. So we'll being the phonics prep and number stuff for him. Which means books from ABeka. :-) It's both frightening and exciting. It felt
funny to talk about school for 2008/2009 when I'm no-where near finished with 2007/2008. It was still fun talking about it.

We finally got seated, and discovered a party of 24 sitting next to us. We had one very busy waitress. We ate and headed across to see the movie "Jumper." and then we headed to the book store. Our babysitter, laughs at us every time she sits with the kids. We always end up at the book
store. We both found a book - and I got Mini-Me another "Ramona" book from Beverly Cleary. (She read it in less than 2 days.)

Then we headed home. It's always good to head home when you've had fun. Knowing that the kids would be asleep helped, too. I admit it. Everything went well, Lady-in-Pink said. With a few minor exceptions. Time-outs were apparently given out for spats....

Even Elmo had to head for time out. I almost missed it.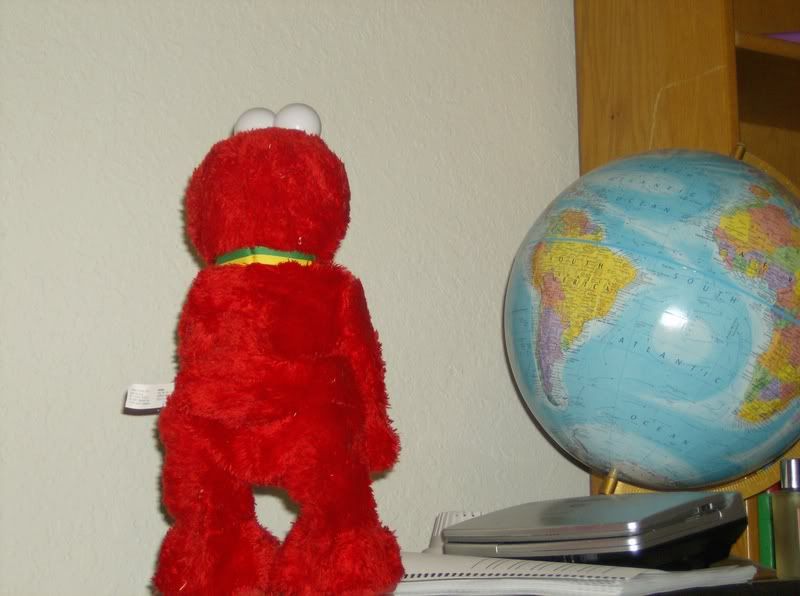 He was sitting in the corner on top of the piano, because he had giggled himself into a riot.

He managed to come out of time-out the following day and hasn't caused another riot, yet. But we've been warned...so we're watchful.