I guess I could just leave you with that lovely blog title, couldn't I?
My last post showed you Princess Mini-Me all snuggled in doing her history work. A Lovely moment, I'm sure. It went down hill from there.
I started to feel seriously ill. I thought it was food poisoning. I had a back pain from sleeping wrong saturday night. And the house kept getting colder and colder. I finally called The Professor to come home. It was sleeting and raining at that point.
He came to my rescue.
He discovered that the pilot light was out on the heater and rectified the situation. Meanwhile, I stayed snuggled in my blankets on the couch. I couldn't even tolerate the thought of food. The Professor cooked.
I fell asleep on the couch.
The next day, the roads were nasty. Sleet covered in icy rain was all over the news. We didn't have it as bad as some - but enough that the Professor stayed home to take care of me. I stayed in bed all day. The Professor taught Mini-Me and G-man their lessons for the day. I felt crummy.
The professor had to go to work on Wednesday. In the middle of the night, J-man tossed his cookies all over his blankets. The Professor tackled the bedding and I tackled the kid. He was actually rather jolly for needing a sponge bath at 3:30 am.
I won't even mention the dog p**p incident with the dog. Mini-me earned all sorts of kudos that day. 100 times over.
Thursday, the professor was called out suddenly for a site visit. Thursday night, G-man tossed his brownies over the side of the top bunk. I don't think that stain will ever come out. I totally had to repent the next morning.
Friday night, the professor came home from his trip. He was so tired from driving that I sent him to bed. Before Long I heard him in the bathroom being sick.
ick. I'm really glad he didn't get sick on the way home. really. REALLY glad.
That night, about 10:30, Mini-Me joined him in the "being sick" part of life. We ended up camping out in the living room. She kept crying and apologizing for being sick. I'd feel sorry for her - and then she'd use the word "revolting" and I'd have to work really hard not to laugh. It was an interesting night.
In the midst of this, Mini-e was sick, too, but hers was a one-time up-chuck and then an avoidance of food. Even as weird as it sounds, I'm glad that was the extent of her "sick".
There were some odd bright spots in the week. Such as, the time when:
G-man told me I smelled good after I took a shower. The only soap I had in the house for me was - "Old Spice". *snort* left over from when we were expecting a guest.
or when --
Mini-me worked her tail off making a 2 foot snow/sleet/ice man. She used gummies as the face and such...
She was quite proud of it. It was brutally killed by siblings who were shocked to wake up from their naps to find him in the back yard. I guess they thought he was going to invade.
and then ...
G-man decided to put on a hat, while he was sick, because it matched his shirt.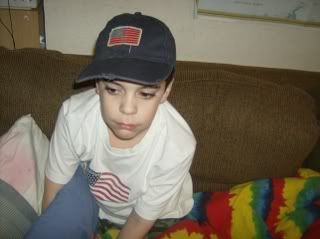 It's rather endearing that he'd be so sick but willing to accessorize. It's never a bad time for style.
That's pretty much our week in ick.
I must say, I'm glad it's over.
I think I need a nap.