otherwise known as "How to make a shoe sales man cringe".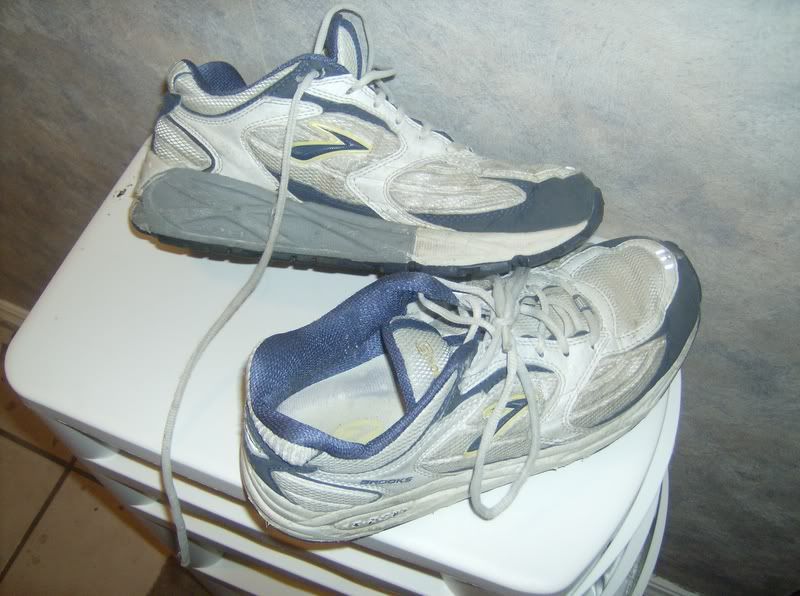 My old, worn out shoes.
Be glad it's not a scratch and sniff.
I've known I needed new shoes for a while. When your feet hurt as much as when you wear them as when you don't - it's time for new shoes.
So tonight, I asked the Professor if we could stop by the running shoe store --
(a store that sells running shoes - not a shoe store that is actually running. Just wanted to clear that up - you know, just in case I read this later, when I've had more caffeine. Or, even if
you
read this later. With or without caffeine.)
I've had really good experiences by buying my shoes at this kind of shoe store. They know exactly what I need when I say, "My ankles roll and I have flat feet."
So we stopped at the one that was along our path - to see if they were open. They were. And in I went. I explained that I needed new shoes, my ankles roll and I have flat feet.
He, turned out it was the owner of the place (don't I feel special), knew exactly what I needed. He checked my old shoes for size and said, "These are Brooks Ascension number something something, that I promptly forgot. They haven't made these since before I opened my store (mumbled in shock) years ago."
I really think he'll be talking about me for days. He put my shoes in the box from whence my new *unsmelly* shoes came with a bit of awe. They either really stunk, or he was just freaked by the fact that they were so old.
I selected two new shoes. One for everyday, one for walking (which I need to get back to) and told him that my old ones would be lawn mowing shoes.
"Yeah, those would be good for that soft surface."
Which was probably a very nice way of saying, "Gooberhead."