My boys get action figures. They really enjoy playing with them. They don't enjoy playing with the bad guys. They are unloved, for obvious reasons. They are the bad guys, after all. So it was a bit of a suprise when G-man asked for bad guys to go with his
Star Wars: Clone Wars
action figures. The store was all out. Not only is Christmas toy season over, but they were doing inventory and reshuffling the store for normal toy selling. (Which means, next to nothing.)
I managed to pick out 1 assassin bot and then some creepy looking action figures from another set that looked very capable for the bad guy role needed.
My goodness!! They got to work right away! They wasted no time in capturing some Clone Soldiers and immediately began questioning them about troop movements and plans.
The CIA reportedly has w*terbo*rding
(don't want that creepy search here)
, Darth Vader has that mystery Drug and the creepy robot, Veggie Tales has the Island of Perpetual tickling. They are NOTHING. NOTHING I tell you compared to the atrocities these foes have put our stalwart Republic Clone troopers through.
It looks like a simple connect four game. But not in the hands of the enemy.
These are now molten hot rocks -- and if the Republic soldiers don't answer the questions... they will suffer.
SUFFER!!
MWAHAHAHAHA!
They refused. And the enemy did what he said he would do...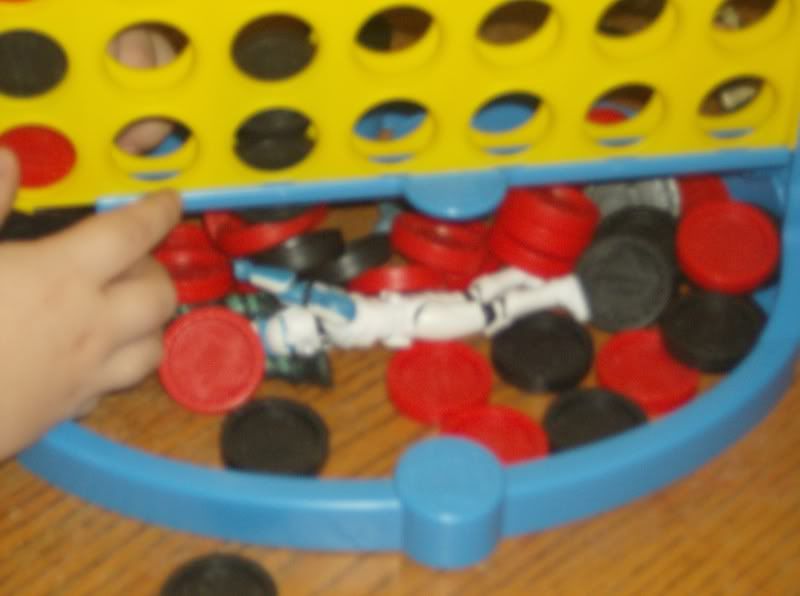 Of course, we know that the enemy would have dropped the molten rocks - no matter what... but alas.. our troops have suffered a great blow. But this will not hurt morale - it will bolster the men! They will fight on! They must!! Or their comrades have died in vain.
but first - it's lunch time.