Sara, atButterville
hosted a "Show off Your Tree" event on her website. Linda, at Growin' with it, decided to host a
Show-me your tree on her Blog
....with the promise of
caramel
..
Pardon me while I drool.
I'm too late to play along in the give-away, but I promised I'd post pics of my tree. My problem came when I didn't plan on feeling really crummy yesterday.
Our tree has not a great story behind it.
We have the tree that we have purely out of necessity.
First of all it's plastic. I feel no shame about it, either. It's plastic, plastic, plastic - and metal and wood.
The Professor is allergic to real trees...and Christmas is too special to ruin with asthma attacks.
One year we had a really nice big tree. That was before we had J-man the Wookie and long before Mini-e. Come to think of it, I think we got the tree and the Cat at the same time.
Then we didn't have a tree for a year? Or was it two? ...because we had little kids, a cat - and no SPACE whatsoever for a big tree.
Last year I decided to try to find a tree, because the kids wanted a tree. So I chose this little guy and set it on the piano. It worked out great. We stacked the gifts under the tree, it was cute.
This year - we had decorating issues. Our lights didn't want to work. For whatever reason, we didn't get new ones and we're lightless.
I stumbled across the love of blue and silver quite by accident and I really like it. I had bigger plans - but when space became an issue, I scaled down and have opted to go totally blue and silver. I like it. It's very royal and still goes with a denim life style.
Several years ago, we decided that we'd collect snowmen. Which is great, except now I'm constantly on the look out for ones that go well with our blue & Silver theme. One day, we'll have more space to diversify. Until then... having limits keeps me from buying all sorts of snowmen we don't need and probably won't want.
Our Tree topper: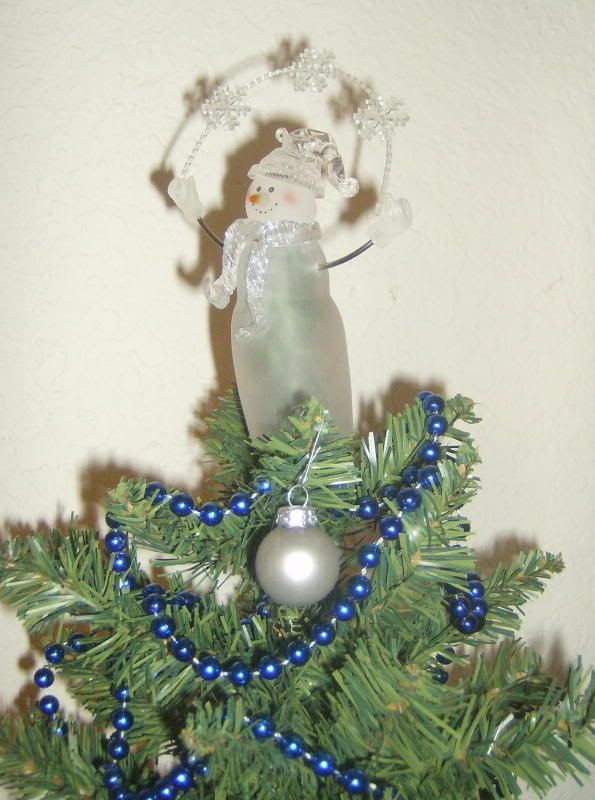 Here's a close up of our current ornaments.
It looks really nice, I think.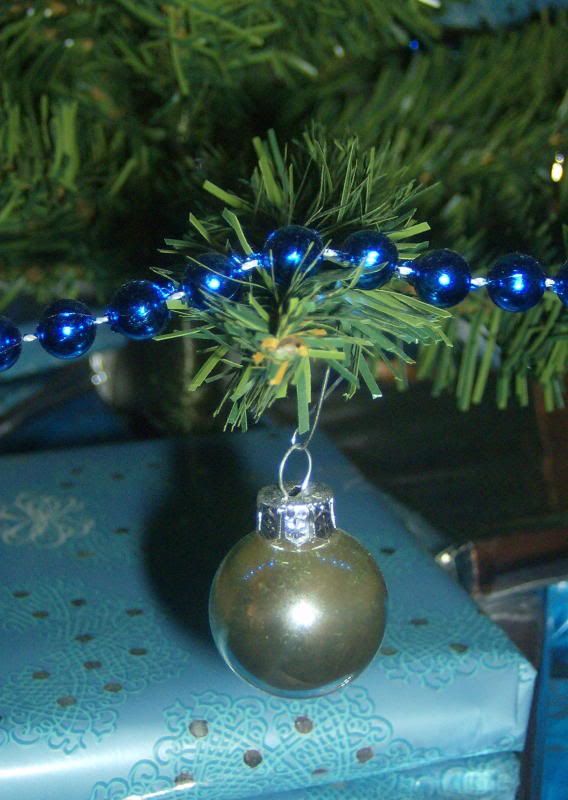 Yes, my Christmas paper is Blue & Silver.
So that's our Christmas Tree and decorations. I'm not wrapping a lot of the Kids Christmas presents this year. The Toy Packaging is just too much when there's 4 kids waiting for the evil twisty ties and extra tape to be removed...so The Professor and I will put in a movie on Christmas Eve, put toys together and remove them from the toy packaging -- and celebrate the blessings that God gave us in our 4 kids (and their toys).
Hope you enjoyed looking at our Tree - and the rambling telling of my Christmas Eve plans.